Build Your Ads
Great ad campaigns start with great ads. The Display Ad Builder tool within AdWords lets you easily create any ad for free.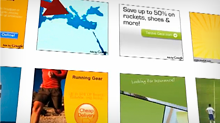 Create free, professional-looking image ads in minutes.
Choose from hundreds of templates and customize the colors, fonts, and layouts of every ad.
Use images from our stock files, from your computer, or even straight off your website.
Update your ads easily, or create new ones for each offer.
Ready to create your own vibrant image ad?
Log in to your Google account at www.adwords.google.com.
Go to the campaign where you'll be running the new ad and click the 'Ads' tab.
Click 'New Ad' and then select Display Ad Builder.
Customize and save your ad.
Call 1-877-908-4179 (9am–9pm ET, Mon–Fri) for free setup support from our AdWords team when you invest $10/day or more. Or contact sales.